Miah and Larkin made this brick path. It starts with the stumps around the fire ring, goes around the compost pile, and ends in the trees.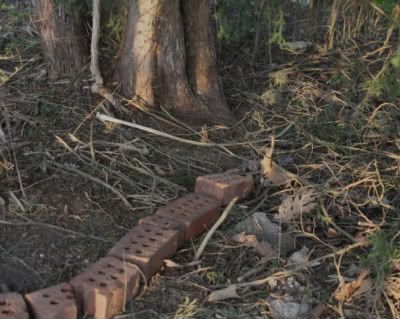 I thought it looked very Montessori. Miah especially likes to go out and walk on the path, stooping to straighten an occasional brick that has been moved out of place. The kids took me over to look at it, and they all practiced balancing and stepping from the stumps to the bricks.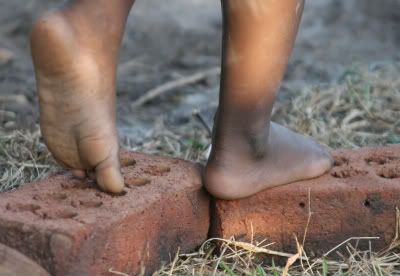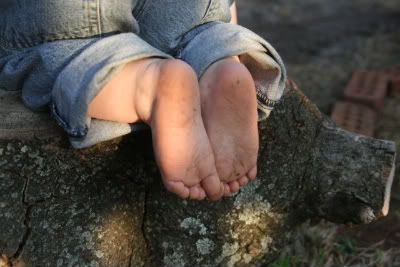 Don't you love those sweet, grubby little feet?
Balancing, maintaining order, walking quietly on a line. All those can create a feeling of calm and promote concentration. What I find we must be careful with in using Montessori is not relying on activities and special order to create peace. Peace does not come from objects or movements or from within ourselves. We cannot create peace. We cannot find it in a method. There is but one pathway to peace, and it's not made of bricks. It is made of Rock.
"You will keep in perfect peace all who trust in You, all whose thoughts are fixed on You! Trust in the Lord always, for the Lord God is the eternal Rock." Isaiah 26: 3, 4
Believe me, I can find the value in a calming activity. We just can't give the activity more value than it's actually worth. Labyrinths, yoga, meditation are all worthless and even deceitful. Clearing the mind can result in it being filled with all manner of unprofitable thoughts and deceiving spirits.
"They offer superficial treatments for my people's mortal wound. They give assurances of peace when there is no peace." Jeremiah 6:14
Walking a labyrinth, following a quiet path, or meditating can all be very beneficial to us and our children as long as we are careful to first fill our children's minds with good thoughts of our Jesus - His love for us, His grace towards us, His tender care for us.
Do not be persuaded that anything else is sufficient. Jesus said in John 14:27, "Peace I leave with you; my peace I give you. I do not give to you as the world gives. Do not let your hearts be troubled and do not be afraid."
Placing our trust, our hope, our lives in Jesus is the one way to find peace. Only when they know Jesus will our children will be able to act in a truly peaceful manner.
"But the fruit of the Spirit is love, joy, peace. . . " Galatians 5:22