Last week's state was Kentucky, which was fun because we'll probably get to visit a lot of the places we read about. Before we began our study of the states, I sent off for each state's visitor's guides, travel brochures, maps, etc. All you have to do is go to a state's website and look for the button that says something like, "Request Free Travel Info." Most states (I'd say 40 or so) sent a packet of information. So after we read our books about the state we've chosen for the week, I get out the magazines and maps sent by that state and the kids make their notebook pages. It's fun and simple and a lot of times they find pictures of things and places we just read about, which serves as reinforcement. For states that didn't send anything, they draw pictures (like I posted
here
.)
Here are the books we found at the library for Kentucky. My favorite was Weaving the Rainbow, but that's just because I like sheep. The Discover America State By State Alphabet Series (B is for Bluegrass) is good - lots of info, rhyming verse, interesting pictures. I try to find the appropriate book from that series each time just because there is so much information in them. The kids always prefer the story books though.
Cutting from the FREE materials.
Miahs notebook page.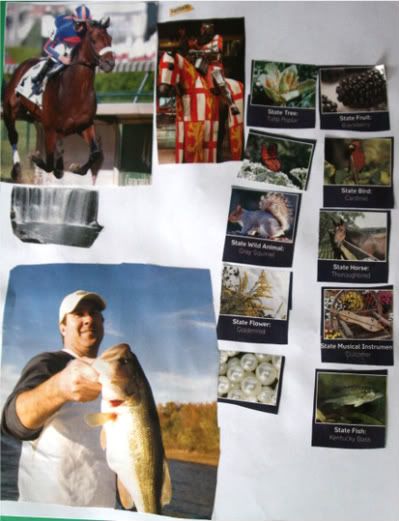 Larkin's notebook page.