This recipe is adapted from The Gluten-Free Gourmet Bakes Bread. It's a nice treat - yummy but not too sweet.
Cinnamon Biscuits
Preheat oven to 425.
Mix together:
1 c. brown rice flour
1/2 c. amaranth flour
1/4 c. cornstarch
1/4 c. tapioca flour
1/2 tsp. xanthan gum
3 tsp. baking powder
1/2 tsp baking soda
1 Tbs. sucanat
1 scant tsp. salt
4 tsp. powdered egg replacer
Cut in:
3 Tbs. unsalted butter
Mix in:
about 3/4 c. buttermilk
Pat into rectangle 1/2" thick. Brush with melted butter. Sprinkle with sucanat and cinnamon. Cut lengthwise into three equal pieces.
Stack the long pieces on top of each other.
Cut into 12 equal pieces.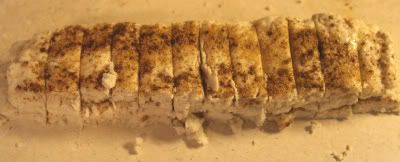 Lay each of the 12 sections, cut side up, on an ungreased cookie sheet. Pinch the ends together as you lay them down so they won't fall apart.
Bake 10 - 12 min.