It has been nearly eighteen months since we met our little girl, Zahana. I've mentioned bits and pieces, but here's the whole story with lots of pictures.
Adoption is a complicated process. It is more harrowing than pregnancy and childbirth. It's worth every moment, every form, every dollar, and every tear. I'd do it again in a heartbeat.
Our complete adoption process from the first application to holding our sweet baby took two and a half years. I sat down and filled out every form the day it came in the mail when possible. The "when possible" part is probably the hardest part of adoption. So much of what must be done depends on other people. People who don't know you, who haven't seen pictures of your tiny baby laying in an orphanage with chicken pox, who have lots of other things to do. Waiting is hard.
At first, we applied to an agency in California and began pursuing a Liberian adoption. We were told babies were available and that we would probably have a referral within three months. At the end of three months or so, there was a lot of talk about adoptions being closed down for a while in Liberia due to an important election that was going on. The political environment was unstable and could greatly effect adoptions. During this time, I always had a feeling that I would have a child from Ethiopia, if not this time then in the future. So when we decided to switch to Ethiopia, I really didn't have much doubt about whether we were doing the right thing.
Because the California agency didn't work in Ethiopia, we also had to switch agencies. We chose Adoption Advocates International since they had experience in Ethiopia and had a lot of children available. We had to start again with the paperwork and have our homestudy rewritten. When everything was done on our part, we waited. We were told that more people requested girls, and since we didn't specify, we expected to be matched with a boy. I spent a lot of the waiting time poring over lists of boy names, thousands and hours of boys names. We never came up with one. Then we received a phone call from the agency. There was a baby girl available for adoption!
Helen Mintesnot was found abandoned at a police station several hours south of Addis Ababa. The babies' last names are taken from the person that finds them or brings them in. Helen was supposed to be her Christian name. (It's really Greek.) She was taken to a local orphanage and later moved to AAI's baby orphanage, Wanna House. Now, more paperwork and more waiting.Everything was ready by June 2007. By this time, I was pregnant with Rohan. (We had planned on becoming pregnant
after
Zahana arrived. God had other plans.) Since my dad has long dreamed of going to Africa, we invited him to go along with Jeremiah while I stayed with my mom. We traveled up to my parents' house and then took Jeremiah and my dad to the Cincinnati airport. After we said our good-byes, my mom and I took Miah and Larkin to the local zoo. Shortly after we arrived, the agency called me. Apparently, our paperwork had expired
that day
! How ridiculously disappointing! I called Jeremiah. Since he was flying standby on the first leg of the flight, he had been unable to board yet. We talked to the agency; there was nothing we could do. We had to get an update on our homestudy and redo some paperwork.
So for three more months, we waited for everything to be approved by the proper government agencies. The court date in Ethiopia had already occurred months before, and Zahana was really our baby. But she had to wait in the orphanage half a world away from us for all the red tape to be taken care of.
After all the setbacks, it was difficult to get excited when Jeremiah and my dad finally boarded the plane for Ethiopia. (By this time, I was eight and a half months pregnant. Miah and Larkin had been late-comers, my midwife gave me the go-ahead to travel, so I wasn't worried about Jeremiah making it back in time for the birth.) After flying through Germany and Sudan, they arrived in Addis Ababa in the evening. The next morning, a lady from AAI took them to the orphanage to meet Zahana. And finally, she was in her Papa's arms. No more worrying. No more waiting.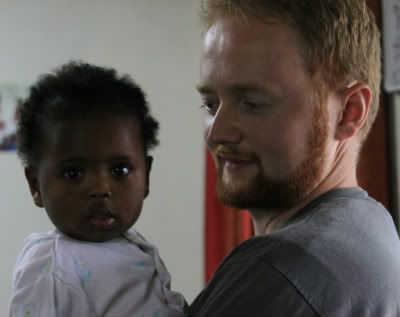 Meeting Grampa.
This is the first picture of her that Jeremiah e-mailed me. Now I could get excited!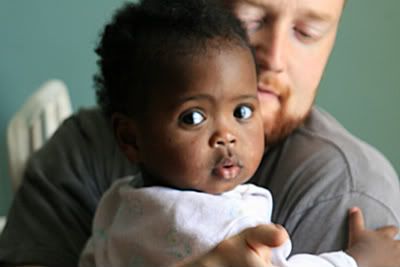 They toured the orphanage. Saw the other kids waiting there. They had a school for the older kids and a doctor. They saw the ladies who helped care for the children, cooked, washed laundry - lots of laundry. We think of an orphanage as a sad place, but the orphanage was viewed as a place of wealth in the midst of a poor city. The children who end up here, have a chance to find a family.
Jeremiah had some meetings and paperwork to finish and had to wait around for about five days before bringing her home. You can see in one of the pictures her really large belly. This was due to giardia. She also had mulluscum, wartlike bumps on her skin, and her skin was a bit discolored and rough. She was, overall though, in pretty good health and a sweet, happy baby. Jeremiah had her head shaved. She slept in a crib between their beds. I have to admit I thought it kind of funny that these two men had to take care of a baby by themselves for a week - and in a foreign country. Baby care was pretty much left to the women prior to this trip. But they were amazing. They did a wonderful job. Zahana had not been around many men at all in the orphanage and was scared of men for a while after she came home. But she immediately latched on to Jeremiah and my dad in Ethiopia. She was a real daddy's girl.
Just outside the room where they were staying was a muslim mosque. Early in the morning (5 am, I think) they would start their calls to prayer over a loud speaker. Of course, this was really annoying to Jeremiah and my dad. Zahana barely noticed. She was used to it and didn't even wake up. The women in long white head coverings were the Orthodox Christians. The muslim women wore a head covering more like a scarf. They had some time to explore the city, the museums and shops and Africa's largest outdoor market.
Interestingly, Ethiopia's calendar is not the same as ours. They are about 6 1/2 years behind us. So they were getting ready to celebrate the new millennium. There were towers of sticks being made ready for bonfires and Ethiopian flag banners everywhere. This could have really slowed down our adoption process a lot since government agencies take extended time off during holidays. It did some, but thankfully not too much.
They also were able to visit the country outside the city and eat an Ethiopian meal with traditional music and dance.
Then it was time to come home and meet the rest of the family. Family and friends gathered at the airport to wait. The plane arrived at 9pm. And Jeremiah placed my sleeping baby girl in my arms. It was a surreal feeling. Everyone standing around us. Everyone crying. She was finally home. We had waited so long.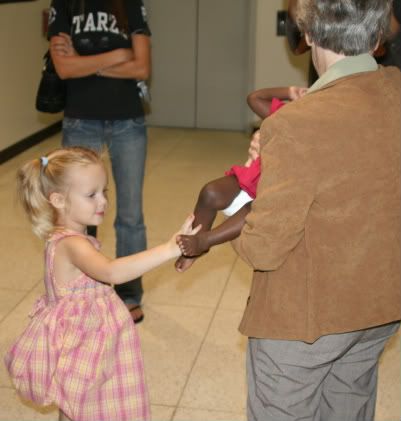 Rohan couldn't wait any longer to see his sister, I guess. He was born the next morning.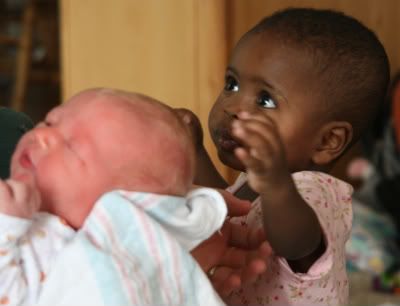 What a crazy journey! What a blessing!
Thanks be to God for His indescribable gift. 2 Cor. 9: 15