This morning, local soldiers left for Iraq. A couple AHG dads were among those leaving, so the American Heritage Girls and Boy Scouts gathered with friends and family to say good-bye.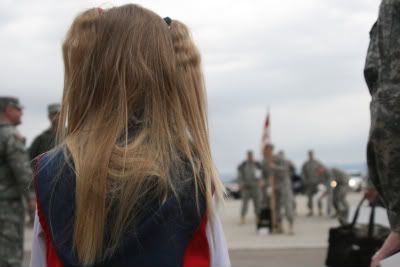 For all the soldiers, who go bravely to defend, who toil for freedom and justice, who long to return to their families, we pray:
May the LORD God cover you with His feathers,
and under his wings may you find refuge;
His faithfulness will be your shield and rampart.
Let there be no fear of the terror of night,
nor the arrow that flies by day,
nor the pestilence that stalks in the darkness,
nor the plague that destroys at midday.
Though a thousand may fall at your side,
ten thousand at your right hand,
may it not come near you.
Blessed be the Name of the LORD, our refuge.
(from psalm 91)