. . . yummy!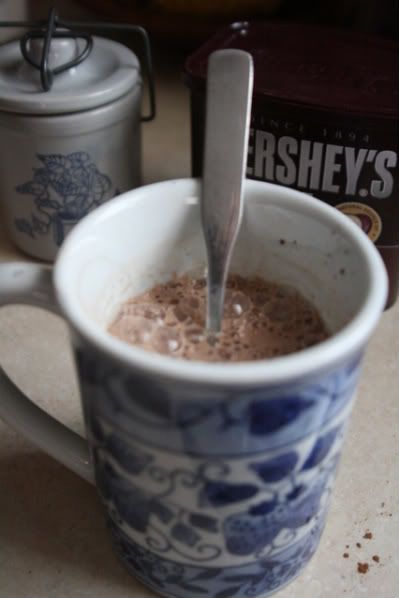 I don't know if I can adequately describe for you my love of hot chocolate. Winter is just not my thing. I
don't
like to be cold. It's a good thing we don't live any farther north. BUT occasionally, in warm weather, I'll think, "I wish it was cold enough to have some hot chocolate." Then I'll just make some anyway. Usually, I'm just making one cup for myself, so I mix up a spoonful of
sucanat
, a heaping spoonful of cocoa (at least twice as much cocoa as sucanat), gradually stir in some milk, and heat it in the microwave. If I'm making it for others too or just want some
really
good hot chocolate, I make this recipe:
In medium saucepan, mix 1/3 c. sucanat, 3 Tbs. cocoa, and a pinch of salt.
Stir in 1/4 c. water. Stir over medium-high heat until boiling. Boil two
minutes. Add 1 3/4 c. half-and-half, 1 c. milk, 1/8 tsp. cinnamon, and 2
oz. bittersweet or semi-sweet chocolate. Stir until melted and heated
through. Don't boil. Remove from heat. Stir in 1/2 tsp. vanilla. And if
you're really not in the mood to care about sugar and corn syrup, add a big
dollop of marshmallow creme to your mug.
Here's another I found in a magazine. A bit more work but delicious.
Timberline Hot Chocolate
4 c. milk
1/2 c. water
1/2 c. sugar (or sucanat)
8 oz. bittersweet or semisweet chocolate, coarsely chopped
1 recipe schlag (follows)
crushed english toffee
cocoa
In saucepan, mix milk, water, and sugar. Stir over medium heat until boiling. Remove from heat. Stir in chocolate. Whisk until melted and frothy. Pour into cups. Top with schlag, toffee, and cocoa.
For schlag: 1 c. whipping cream, 2 Tbs. sugar, 2 tsp vanilla. Beat until soft peaks form.
Enjoy!