Miah sometimes gets W, Y, and U confused, so I put together this little activity for her. She sorts the pictures by their beginning sound. The word is written on the back of each picture, which makes it self-correcting.
Also made some more animal 3-part cards. I found this cute set of containers at the thrift store for a quarter.
These wonderful Bible felts were a Christmas gift from Grampa and Gramma. I still don't have them all cut out, but Miah loves playing with them. She used a Bible story book as a guide for recreating a Bible story, then she made up her own story.
Jeremiah made this box of nuts and bolts and a board to put them on. It's one of those things that can keep Larkin busy for about an hour.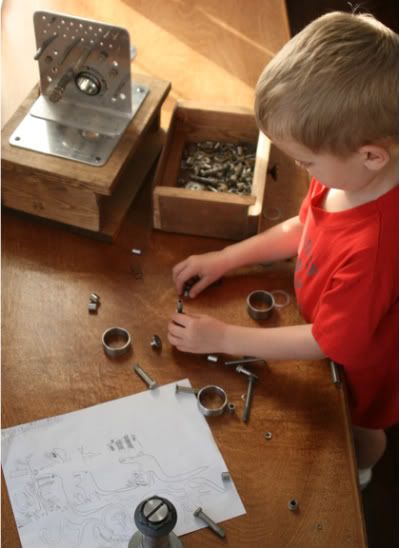 I've been working on these blocks and finally finished them. I got the idea from the architectural blocks on the Crafty Crow (see blog links on sidebar). The ones on there had the designs printed off the computer, then mod-podged on. At first I thought I'd do it that way, but then decided it would be easier to paint the blocks and draw on designs with a sharpie. Well, theirs are much prettier, but the kids were excited with the change.