Another picture for our timeline. Actually, there were a couple pictures we just colored and put up and one we read a couple books about. Then we did the Etruscans. Since there weren't any children's books on the subject, we looked at the pictures in a couple books from the library. We found where the Etruscans lived on a globe and in an atlas. The kids did a dot-to-dot of Italy.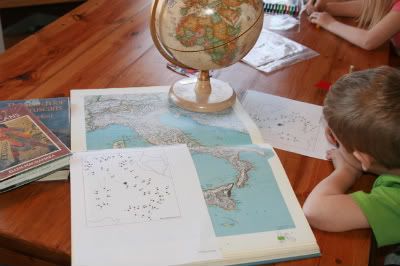 Miah built an Etruscan arch out of legos.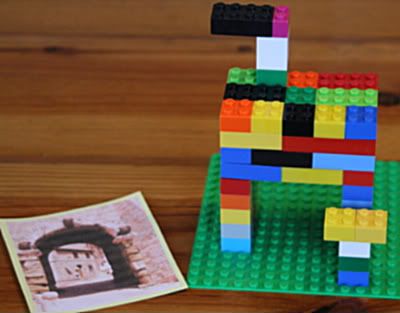 Larkin drew this Etruscan fortress and put Odysseus and Telemachus inside. :)
And here's Rohan, building something Etruscan, I'm sure.
I don't remember ever even hearing of the Etruscans before, so while the kids were building and drawing, I picked up one of the library books and began reading about the Etruscan language. I ended up reading for quite some time from both books. It's so nice when I can enjoy learning right alongside the kids.
"The bracing atmosphere of truth and sincerity should be perceived in every school; and here again the common pursuit of knowledge by teacher and class comes to our aid and creates a current of fresh air perceptible even to the chance visitor, who sees the glow of intellectual life and moral health on the faces of teachers and children alike." -Charlotte Mason