This is my Larkin, age 5. His middle name is Paul, which is a family name - both grandpas and Jeremiah. Larkin is an Irish name meaning rough and fierce. He likes animals in general but crustaceans and mollusks especially. We were driving to the library a few months ago, and he surprised me by asking, "Can we get some books about crustaceans?" I didn't even know he knew that word! He is truly like a sponge, absorbing words, and constantly asking what they mean. One day he asked me for some magazines, out of which to cut some pictures. A little while later he said, "Come look at my science bed!" He had cut out lots of animal pictures and taped them all around his bed. He really is fun to teach, not that I "teach" him in the conventional way. There's no sitting him down for a lesson. He couldn't possibly sit still or pay attention for that, but give him a box of legos and pictures of architecture or read something that's of interest to him, and he can sit still for an hour.
Larkin also loves playing with friends, going to church (he always calls it "school"), and going to Monday Fun math class ("I love math!" he says.) He's also excited that he gets to be a boy scout when he turns 7 ("Only 2 more years, Mom!")
So here he is, my big boy.
He also really likes pattern blocks.
Riding with Grampa.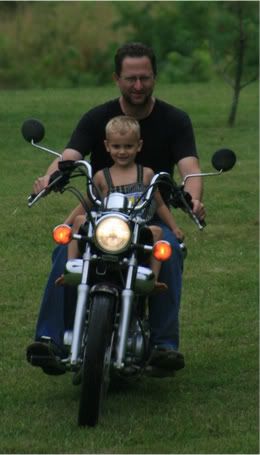 Um...yes, that is a tie he's wearing.
With Uncle Dallas.
A little treat on his actual birthday, since his party wasn't for a few days.
His artistic skills are developing quite nicely, too.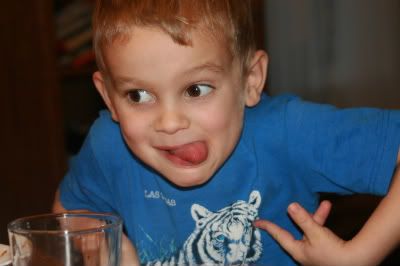 "Have I not commanded you? Be strong and courageous. Do not be terrified; do not be discouraged, for the LORD your God will be with you wherever you go." Joshua 1:9