I try to work with the kids every day we don't have something planned so that when we have family visiting or we want to go on vacation or it's just a beautiful day to go out and play, I don't have to worry about getting enough "school" days in. That means that in the cold months, I'm working with them 6 days a week. I was starting to wonder when I would get to make all the Montessori materials I have in mind. So, I recently made Saturdays an independent work day for the kids.
We've had George Inness's "Delaware Water Gap" on the fridge all week. The kids made their own versions.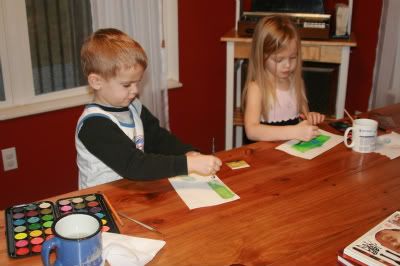 Miah's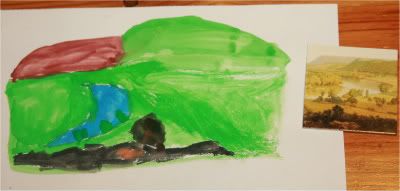 Larkin's
Miah, playing the piano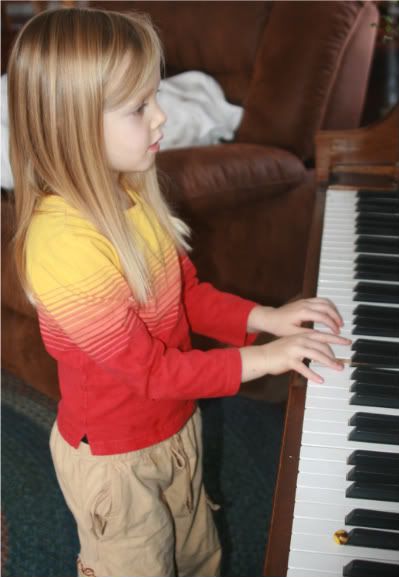 This is TOPS Get A Grip lentil math - algebra for little kids. I really like it, because it's so hands-on.
Tracing the horse puzzle and painting. She's really into horses right now, and art. She draws ALL the time.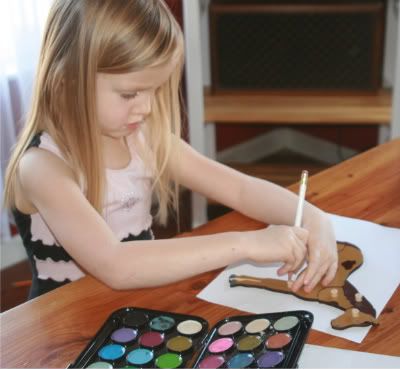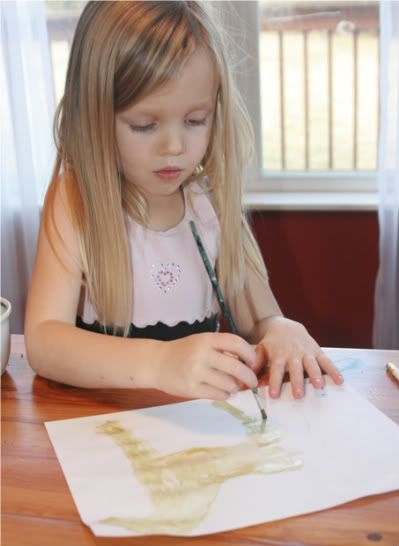 Miah also practiced Spanish on the computer, read to me, and did a little Montessori walking on the line with a bell and ball and spoon. I bought the bell last week at a thrift store for a quarter. Larkin seems to be quite unaware that he slams doors and knocks into people, spills things, etc., so I was hoping to give him some activities to help him out in that area. I don't think he's touched the bell, actually, but Miah seems to think it's great fun.
Larkin spent about an hour on his first activity. I gave him a book with some pictures of Chinese architecture and his box of legos. He chose a picture, and was supposed to recreate it with his legos.
He was pretty happy with his Chinese building, although I saw no resemblance to the picture. I think he did become aware of some Chinese architecture even if he just built his own thing.
And here he is with a puzzle.
And what did I do while all this learning was going on (besides taking pictures of them)? I finally finished our movable alphabet. It's in cursive, because Miah has taken an interest in "fancy writing". I didn't color code it, but I kind of wish I had done the vowels on different colored card stock. I just shaded them in with colored pencil. And I made a few picture/word cards to go along with it, but I'll definitely need to make more.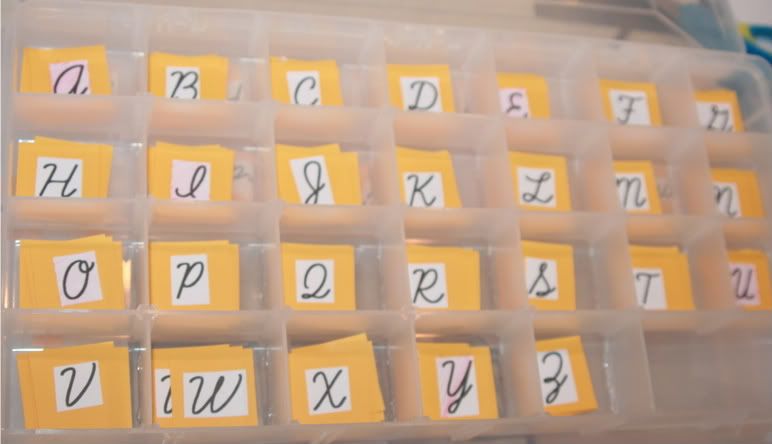 There is a balance between manual and physical activity, the concrete and abstract, nature and books, with early emphasis upon the process (how) of learning rather than the product (what). -R.C. Orem